Open Beta Awesomeness!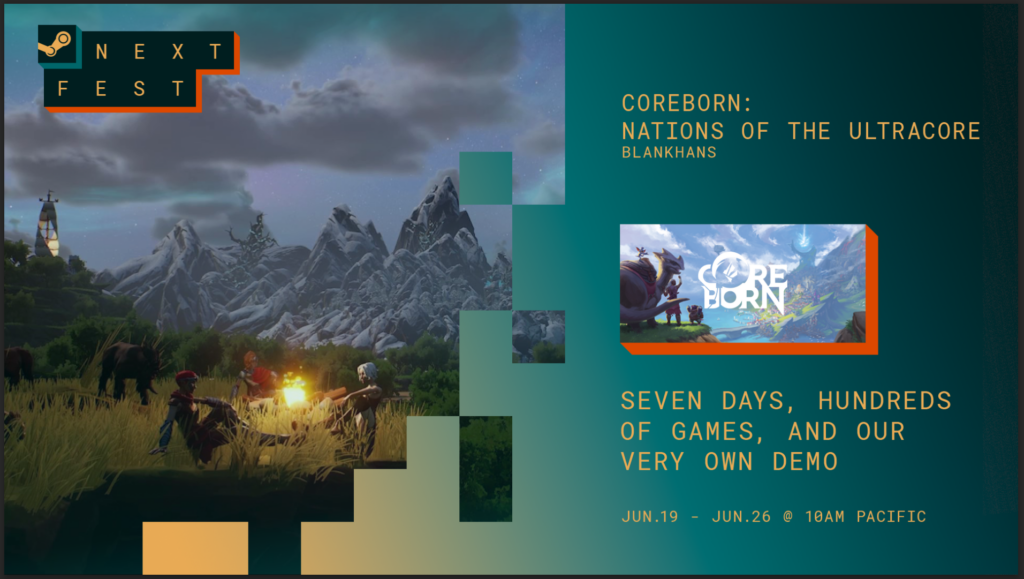 We're thrilled to announce that Coreborn, our social survival game, will be featured at Steam Next Fest from June 19th to June 26th. This is a significant milestone for us, presenting our game to the world on this prestigious platform.
We invite everyone to participate in our open beta during the Steam Next Fest. By simply redownloading the game, you can join our community and play Coreborn before its official Early Access Launch on July 27th.
Coreborn, an indie multiplayer survival game where community and friendship reign supreme, will open its doors to whoever wants to become part of a fantastic community and a fun sandbox experience.
Dive into a shared world where you and your friends can establish towns, conquer challenges, and build your community.
Your feedback will be invaluable in shaping the game's final version, making this a truly collaborative endeavor.
We are also excited to announce that we will host two live streams on June 20th from 10 AM to 12 AM (CEST) and June 24th from 1 AM to 3 AM (CEST). These streams will give you an in-depth look at the game, showcasing its features, gameplay mechanics, and what we have in store for you in the future.
Don't miss out on this opportunity to get a sneak peek at the extraordinary adventure that awaits you.
We encourage you to wishlist Coreborn on Steam to support us in this exciting journey. Wishlisting not only shows your enthusiasm for the game but also helps raise its visibility during the Steam Next Fest. The more wishlists we accumulate, the more likely Coreborn will capture the gaming community's attention and launch successfully.
Follow us on social media and Discord for all the latest updates and announcements as we gear up for the Steam Next Fest!
This is an incredible opportunity for us, and we can't wait to share the world of Coreborn with you. 
Your Blankhans-Team