Welcome to the second edition of Under the Shield! Within this page, I, your friendly Community Manager, will let you in on some updates and news around our game. I can already tell you there has been a lot over the last month!
First up, you may have noticed something a little different around here! Our game has got its full title! Coreborn. I'll let our creative director Hauke Gerdes tell you a little more about it.
Through the tabletop games, we have established that the nations of Torementosia had fought amongst themselves and then united under the banner of the Ultracore. Through the process of creating our game, I have had the luxury of spending more time thinking about this world. As such, something kept coming to mind.
There was the idea that the people of this world would think of themselves as something new. A new people united together. Those born, reborn, and raised under the shield of the Ultracore would see it as a shared haven and home. So why would they continue to think of themselves as anything but a united people? Then it came to me; the Coreborn. Once that thought had taken root, I knew this was the perfect name for our game. They are Coreborn, we are Coreborn, striking out to retake the realms. The team agreed and loved it just as much.
I look forward to us all jumping into Coreborn together soon!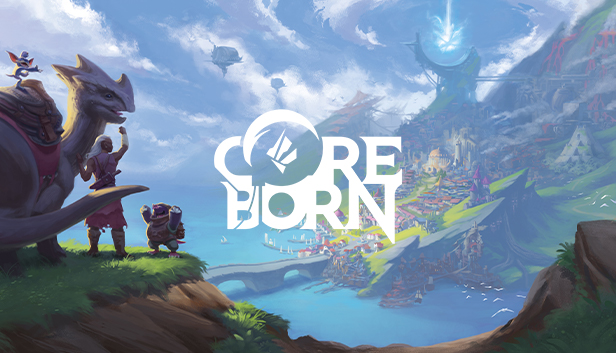 Next, we have a brand-new animated trailer! This trailer sets the scene for the story you will be a part of in our game. Working with The Beast on this trailer was a huge privilege, they did a fantastic job bringing our vision to life!
Along with that, we also have a free pen-and-paper game based on the D&D 5E ruleset taking place in our world! You can download "Bandits of Pipers Whistle" for FREE here and get your own games going! The package contains several things, from the adventure itself, character sheets, and audio files to help streamers!
We've also expanded on the story you saw told in our trailer with a graphic novel! You can read that for free as well right here on our homepage!
All of these things debuted in a recent live reveal event. You can catch the whole thing in VOD form on our YouTube channel. We had a Q&A with our founders and 55 minutes of pre-alpha gameplay from Hauke!
The team has been working flat out recently to get the game ready for you all. In the few months I have been a part of this team, I have seen the game go from a world you could only walk around to a game we can actually play.
Our Friday playtests, where the whole team gathers to play the game together and see everyone's work, have become something we have to tear ourselves away from. Houses are being built, and rather than vanishing after each playtest, they stay there now. Persistence has been unlocked!
I'm so proud of our team, and I can't wait for you all to join us in the world of Coreborn! For now, be sure to join our Discord if you haven't already, the team and I are in there all the time, and it's the first place you'll get news and exclusive info about the game! Until next time, friends, I'll see you under the Shield!
– Chris Slight, Community Manager @ Blankhans