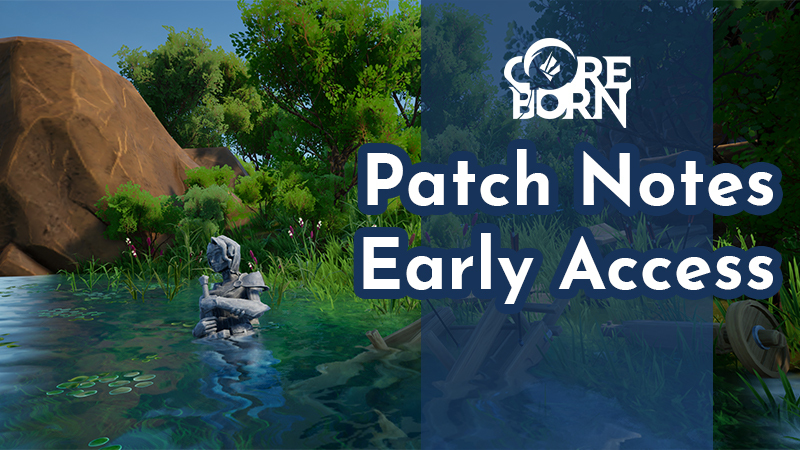 We hope you are having a wonderful day, dearest Coreborn! We have returned with, of course, a fresh bunch of fixes and improvements to you to test and enjoy! Patch number five is a go!
Game Design:
We fixed an issue with the cost reduction perk on crafting stations
Crafting stations now use the items from the player inventory plus all available chests in a town
[To Enable a Storage Chest for Town Crafting, click the Lock in the top right corner of the Storage Chest. Green ( Open Lock) means all stations in the town can use this storage chest to get items. Red ( Closed Lock ) means the crafting stations don't take resources out of this chest]
Engineering:
We added a place and a destroy VFX to the anvil and the cooking stations
Fixed an issue of losing stability when you mixed different building materials
We implemented an additional town ID check to fix some issues when accessing storage chests
We Fixed a Bug that was caused by the cost reduction perk on certain crafting stations
UI / UX:
Fixed the credits overlapping with the version number
Fixed an issue where players could see all towns on the map
The new map markers now have outlines for better visibility
Added a "fighting" symbol to the town, when it is under attack
3D, Level Design, and Animations:
We've removed collision from some foragable resources (Berry Bushes, Serenade Anchora, … )
Added ambience sounds (pipes, steam, etc.) to Coreheim.
Removed some Voice NPCs from Coreheim
The Resin VFX of the Oropala no longer collides with its tail
We have improved the AI pathfinding on roads
We also updated the Oropala Resin attack animation to no longer skip the recovery
The player slash attack VFX should no longer cause the strange rotation offset
As always: Thank you so much for your feedback on socials, in our Discord, and via our in-game feature.
We are adding more and more quality-of-life features while also trying to address the bugs and issues you are reporting, so please keep those requests, ideas, and problem reports coming so that we can keep improving the game for all of you!
– Your Blankhans Team
---
Purchase/Wishlist on Steam: https://store.steampowered.com/app/1926090/Coreborn/
Previous Patch: https://coreborn.gg/blog/2023-08/patch-notes-2023-08-01/