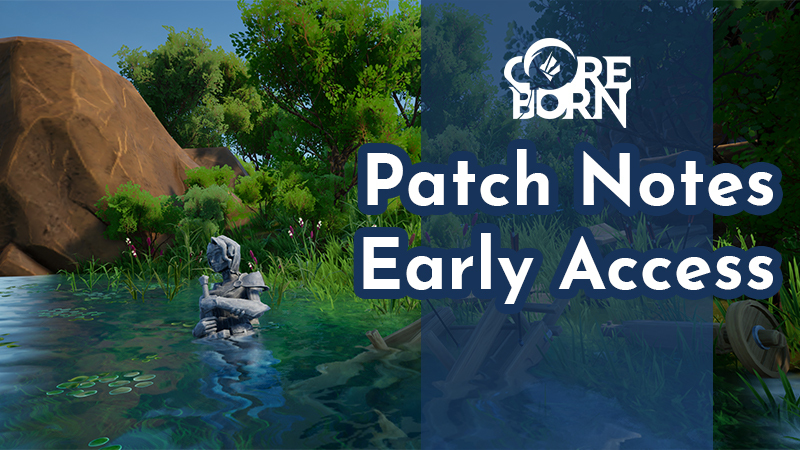 Greetings, our dearest Coreborn!
We happily announce our next patch, packed with new content, optimizations, and bug fixes to enhance your gaming experience like never before. All your feedback has been instrumental in shaping this update, and we cannot wait for you to dive in!
But let's cut things short; Here's our list of all the additions, changes, and fixes:
General:
We added an extra row of slots to your inventory.
Veerking and the Wartorn Teraiva got a boost to their stats.
We buffed the town gate health up a lot to combat the fast decay until we can properly fix this issue.
Game Design:
Dash animations are faster and no longer block input briefly after dashing, letting you attack instantly after or just before the dash ends.
We have reduced the town attack and wave timers to 10 seconds.
The Veerking can now be accompanied by up to 4 Feydveer fawns instead of 2.
We turned off collision on the ice VFX for the Icypala ranged attack.
The schematic for the uncommon Feydveer leg armor is now included in the elite Feydveer mystery loot bag.
Engineering & Backend:
We fixed that you can't lose XP on some skills to gain XP on others.
Fixed an issue where some items were highlighted as craftable even though you couldn't craft them.
Fixed that when players log out, their tools & weapons sometimes float in the air.
You no longer have to walk forth and back to the workbenches to use them multiple times.
UI / UX:
Included visible rotation to the Player Marker on the map in preparation for future quality of life improvement patch.
The crystals exchange rate info on the F1 help menu got updated.
Infos on the Wartorn Teraiva and the Veerking were added to the F1 menu.
3D, Level Design, and Animations:
You discovered a few holes on the map that we patched up
Additionally a sulfur spawner snuck outside of the shield and got safely put back inside.
Another one floated in the air and was put back on the ground.
The outskirts of Coreheim got a little polish.
Fixed a problem where creatures couldn't crossroads
Thanks to all of you for being an important part of the Coreborn community. Your support continues to inspire us. As always, your feedback is invaluable, so please keep sharing your thoughts, ideas, and criticism with us and help make this experience the best it can be.
We'll see you in-game!
Your Blankhans Team
---
Purchase/Wishlist on Steam: https://store.steampowered.com/app/1926090/Coreborn/
Previous Patch: https://coreborn.gg/blog/2023-07/patch-notes-2023-07-21/